DATA PROTECTION PRIVACY NOTICE 
Introduction 
MARTIAL FITNESS is committed to process any personal information it holds only in ways that are fair, transparently and meet its legal obligations, in other words, in accordance with the Data Protection Act and its successor the General Data Protection Regulations (GDPR). 
We have appointed a Data Protection Officer (DPO) to oversee our compliance with data protection. 
MARTIAL FITNESS will take care over email addresses which in addition to the GDPR are subject to the Privacy and Electronic Communication Regulations (PECR). 
Data Protection Principles 
The legislation sets out various data protection principles. These include that personal information is: 
used fairly and lawfully 
used for limited, specifically stated purposes 
used in a way that is adequate, relevant and not excessive 
accurate 
kept for no longer than is absolutely necessary 
kept safe and secure 
not transferred outside the European Economic Area without adequate protection.
Legal Basis For Processing 
The legislation requires that there is a clear legal basis for processing personal information. In general, MARTIAL FITNESS relies on the individual's consent to process their data. Where there are exceptions such as a legal obligation, contractual agreement, MARTIAL FITNESS's legitimate interest, they will be noted. 
Please note that if consent is withdrawn the level of service that we can offer might be severely curtailed.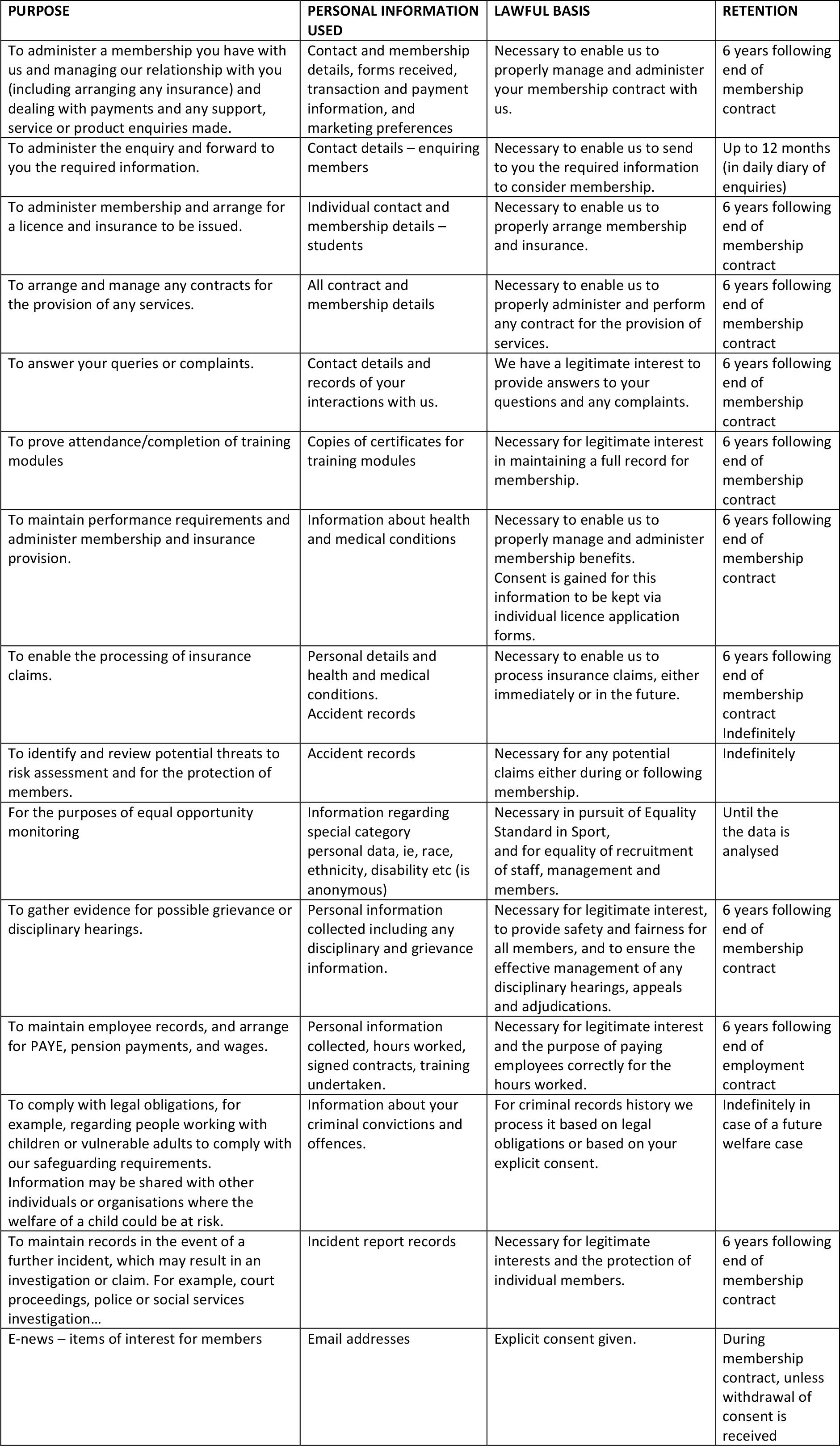 Data Retention 
At the end of a membership contract, the file with all personal information, applications forms, transactions and interactions, will be archived for a period of six years. After that time, the file is destroyed. 
MARTIAL FITNESS relies on legitimate interest as the legal basis for retaining information including future claims and enquiries. 
Forms 
There are various forms used to collect information. That information is only used for the stated purposes which are described in the relevant sections of this Privacy Notice. 
Payments 
Credit/debit card payments made by post or by telephone are kept only long enough to take the payment. A copy of the receipt is sent to the person paying and the copy is attached to the bank statement for the Accountant to write up the accounts. Credit/debit card details are not kept but shredded immediately payment has gone through. 
Links To Other Websites 
This Privacy Notice does not cover the links within this site linking to other websites. We encourage you to read the privacy statements on the other websites you visit. 
Suppliers and Third Parties 
Use of Data Processors 
Data processors are third parties who provide services for us. We have contracts in place with our data processors. This means that they cannot do anything with your personal information unless we have instructed them to do it. They will not share your personal information with any organisation apart from us. They will hold it securely and retain it for the period we instruct. The following is a list of our main data processors (there may be others from time to time); 
- Posting 
When sending letters, parcels, publications and purchases we will share your postal address with the delivery service (Normally Royal Mail). 
When receiving letters or orders, anything with personal details on which is not filed in the club file, is shredded immediately. 
- Accountant 
Our bookkeeper/accountant acts as a trusted third party to process our accounts.
- DBS
The application forms submitted to MARTIAL FITNESS are processed and sent on to either DBS or Aarons Department for processing. We keep only the accompanying forms which are filed securely in the club file.
- Governing Body
We are full members of NAKMAS a trusted third party and UK National Governing Body. They are sent information in accordance with membership regulations relating to member license/insurance registration. We keep only the duplicate forms which are filed securely in the club files.
- Insurer 
Ageas Insurance Limited acts as a trusted third party to provide insurance as part of our membership benefits, and to process any claims. They are sent information in accordance with the Financial Conduct Authority requirements. All information is treated as confidential. 
- International Data Transfers 
Your personal information will be stored in the EU and in accordance with the GDPR. 
The GDPR applies to EU residents. If we share personal information of EU residents with suppliers or 3rd parties outside of the EU we will ensure that they meet the requirements of the GDPR. 
We are committed to complying with the data regulations of non-EU residents according to their jurisdiction. 
Security 
MARTIAL FITNESS has implemented technical and organisational security measures to protect your personal data against unauthorized access, loss or misuse. Cabinets where physical data is stored are locked and keys are kept off site out of office hours. Computers and software programmes are password protected.
Your Rights In Relation To Personal Information 
The legislation conveys various individual rights. These include the following: 
The right to be informed about how your personal information is being used; 
The right of access to personal information we hold about you; 
The right to request the correction of inaccurate personal information we hold about you; 
The right to request the erasure of your personal information in certain limited circumstances; 
The right to restrict processing of your personal information where certain requirements are met; 
The right to object to the processing of your personal information; 
The right to request that we transfer elements of your data either to you or another service provider 
The right to object to certain automated decision making and profiling processes using personal information. 
Complaints or Queries 
MARTIAL FITNESS tries to meet the highest standards when collecting and using personal information. For this reason, we take any complaints we receive about this very seriously. We encourage people to bring it to our attention if they think that our collection or use of information is unfair, misleading or inappropriate. We would also welcome any suggestions for improving our procedures. 
This privacy notice was drafted with brevity and clarity in mind. 
Confidentiality will be preserved during the investigation of a complaint to safeguard the interests of everyone concerned unless disclosure is necessary to progress the complaint. 
If you want to make a complaint about the way we have processed your personal information, please contact us in writing to the address provided at the end of this Notice. 
Access To Personal Information 
MARTIAL FITNESS tries to be as open as it can be in terms of giving people access to their personal information. Individuals can find out if we hold any personal information by asking. This is formally known as a 'subject access request' under the Data Protection Act 1998. If we do hold information about you we will:
give you a description of it. 
tell you why we are holding it. 
tell you who it could be disclosed to. 
let you have a copy of the information in an intelligible form. 
 To make a request to MARTIAL FITNESS for any personal information we may hold you need to put the request in writing to the address provided below. 
If you agree, we will try to deal with your request informally, for example by providing you with the specific information you need over the telephone. 
If we do hold information about you, you can ask us to correct any mistakes. 
We may make an administration charge of up to £10 for a request. 
Disclosure Of Personal Information 
Except as described in this Privacy Notice we will not disclose personal data without consent. 
Legal Obligation 
We may disclose your information to governmental agencies or entities, regulatory authorities, or other persons in line with any applicable law, regulations, court order or official request. 
Malpractice / Maladministration 
An investigation into malpractice may result in personal information being shared with the regulatory authorities, other legal body, examiner, instructor, student or third party that notified us of the suspected or actual malpractice. In this case MARTIAL FITNESS will rely on consent and/or legal and/or legitimate interest as the legal basis for holding and sharing this information. 
How To Contact Us 
Please send any data protection enquiries to: enquiries@martialfitness.com or write to: 
Data Protection Officer, MARTIAL FITNESS, 72 Putney High Street, London SW15 1SE.